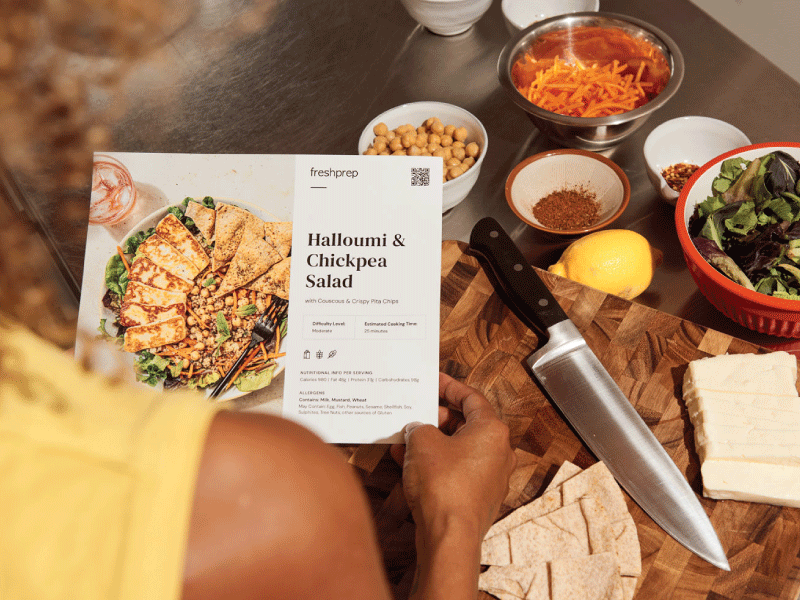 Fresh Prep helps busy people create world-class dinners in under 30 minutes, by shopping, chopping, and delivering fresh, prepared recipe ingredients to your home each week. Passionate about sustainability, Fresh Prep delivers meals in reusable cooler bags and responsibly recycles soft plastics for its customers. Select recipes are now also available in our Zero Waste Kits!
VRCA members can now sign up through www.freshprep.ca/bdvrca* or apply promo code BDVRCA* at checkout to save up to 90% off your first order! ( $44 value)!
*90% max savings applicable to 2 person x 2 recipes plan. All other plans receive a $44 discount off the first order. New customers only. No commitment. Pause, skip or cancel anytime.
Existing Fresh Prep customers can email [email protected] with your Fresh Prep account details to receive a one time $10 Fresh Prep gift card to apply towards your next order!
Why Fresh Prep:
Sustainable:

The most sustainable meal kit company in Canada. Fresh Prep makes being sustainable simple. Through the new Zero Waste Kits, a reusable meal kit container. Plus, food is delivered in reusable, insulated cooler bags with reusable ice packs. For any soft plastics, FP has a recycle program where soft plastics can be washed and returned. FP only uses Oceanwise recommended seafood.

Convenient.

Fresh Prep makes it easy to eat a variety of delicious meals each week. 10 recipe options per week (50% vegetarian or vegan), plus Add-ons available: prepared meals, salads, healthy snacks, and groceries. Ingredients come pre-cut and pre-portioned, eliminating many steps of the cooking process – making dinner time easier and quicker.

Local:

Fresh Prep is constantly working with local BC businesses. We have a selection of Add-on products: savoury and sweet pies, quick meal curries, smoothies and treats which are sourced from local BC businesses.

Fresh Food + High Quality ingredients

: Fresh, high-quality food and ingredients are delivered weekly to your door. Provides creative inspiration to boring old cooking routines. Inspired by International cuisine, created with sustainable and seasonal ingredients.

Easier cooking: With easy-to-follow recipes, and pre-cut and pre-portioned ingredients, we take care of the planning and prepping
Flexible options: 10 different recipes to choose from each week, 5 of which are vegetarian and vegan with a variety of options without gluten or dairy